The Boss Baby
PG
for some mild rude humor


Alec Baldwin , Steve Buscemi

-

1 hr. 37 mins.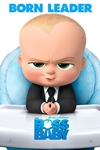 A hilariously universal story about how a new baby's arrival impacts a family, told from the point of view of a delightfully unreliable narrator, a wildly imaginative 7 year old named Tim.
Official Site
Trailer
---
Ghost in the Shell
PG-13
for intense sequences of sci-fi violence, suggestive content and some disturbing images


Scarlett Johansson , Pilou Asbaek

-

2 hr. 0 mins.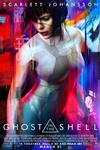 Based on the internationally-acclaimed sci-fi property, "Ghost in the Shell" follows Major, a one-of-a-kind human-cyborg hybrid, who leads the elite task force Section 9. Devoted to stopping the most dangerous criminals and extremists, Section 9 is faced with an enemy whose singular goal is to wipe out Hanka Robotic's advancements in cyber technology.
Official Site
Trailer
---
The Zookeeper's Wife
PG-13
for thematic elements, disturbing images, violence, brief sexuality, nudity and smoking.


Jessica Chastain , Johan Heldenbergh

-

2 hr. 4 mins.
The real-life story of one working wife and mother who became a hero to hundreds during World War II. In 1939 Poland, Antonina Zabinski and her husband, Dr. Jan Zabinski, have the Warsaw Zoo flourishing under his stewardship and her care. When their country is invaded by the Nazis, Jan and Antonina are stunned - and forced to report to the Reich's newly appointed chief zoologist, Lutz Heck. To fight back on their own terms, the Zabinskis covertly begin working with the Resistance - and put into action plans to save lives out of what has become the Warsaw Ghetto, with Antonina putting herself and her family at great risk.
Official Site
Trailer
---
Going in Style
PG-13
for drug content, language and some suggestive material


Morgan Freeman , Michael Caine

-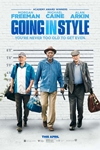 Lifelong buddies Willie, Joe and Al, decide to buck retirement and step off the straight-and-narrow for the first time in their lives when their pension fund becomes a corporate casualty. Desperate to pay the bills and come through for their loved ones, the three risk it all by embarking on a daring bid to knock off the very bank that absconded with their money.
Official Site
Trailer
---
Sleight
R
for language throughout, drug content and some violence


Dulé Hill , Seychelle Gabriel

-

1 hr. 30 mins.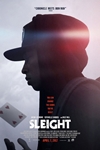 A young street magician is left to care for his little sister after their parents' passing and turns to illegal activities to keep a roof over their heads. When he gets in too deep, his sister is kidnapped and he is forced to use his magic and brilliant mind to save her.
Official Site
Trailer
---
Smurfs: The Lost Village
PG
for some mild action and rude humor


Demi Lovato , Rainn Wilson

-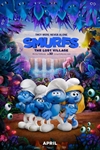 It seems to Smurfette that everyone else in the Village has a purpose — Papa Smurf (leading), Baker Smurf (baking), even Grouchy Smurf (grouching) — except for her. So what's the only girl in the village to do? Go in search of hers, of course! When she accidentally crosses paths with a mysterious creature that takes off into the Enchanted Forest, she follows, and sets off into the uncharted and strictly forbidden woods. Joined by her brothers Brainy, Hefty and Clumsy — and with the evil wizard Gargamel shadowing their every step — Team Smurf undertakes a wild journey full of action, danger and discovery, setting them on a course that leads to the biggest mystery in Smurf history!
Official Site
Trailer
---